Which mono printers, laser printers or desktop printers are best for small businesses.
Mono printers, laser printer and desktop printers are often a more cost effective way of printing for small businesses.
When it comes to deciding which printers to buy for your office things can easily become confusing. After all, there are so many different printer manufacturers and types of printer to choose from. In this article we will explain the different types of printer and the various uses and applications as each printer technology was designed and developed for a specific use.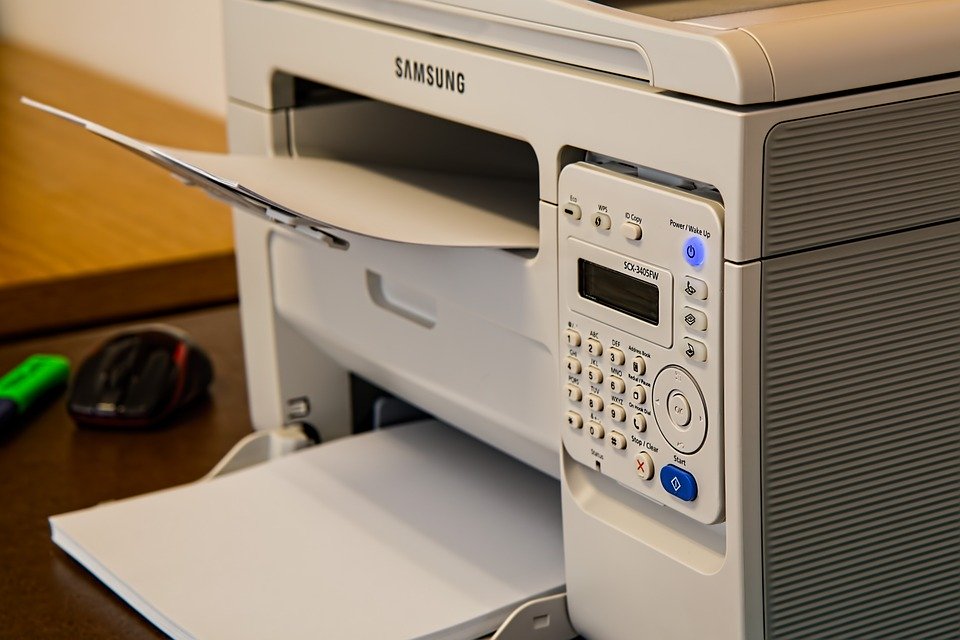 Desktop printers
Desktop printers are designed to fit into small office spaces, they're relatively cheap printers to buy and are also lightweight so will comfortably sit on your desk. They are not however, designed for printing a large volumes, you'll need a photocopier for that. The majority of desktop printers will print on A4 paper in mono (black and white) and colour. Some desktop printers can print on A3 paper.
Tip: Whilst cheap desktop printers look like a cost effective option on the surface, we suggest you look at the ongoing running costs for buying ink, toner or other consumables.
Mono printers are extremely cost effective as they only print in black and white. As a general rule the cost per copy or cost per print for a mono print is ten times cheaper than a colour cost per print. Most mono printers tend to be laser printers as the laser technology is perfect for printing black text, making them ideal for office printing.
The majority of colour printers will print in colour as well as black and white. The best type of printers for colour printing are inkjet printers. They're cheap printers to buy, they can print on multiple types of paper, and are brilliant at printing high quality photos or images.
Laser printers
Laser printers use a technology whereby a laser beam is passed over a negatively charged cylinder or "drum" to define a positive and negatively charged image. The drum then collects electrically charged powdered ink (also called toner), which transfers the image onto the paper. The paper is then heated to permanently fuse the text or imagery.
Laser printers are affordable as they typically offer a lower cost per print than inkjet printers or other types of desktop printer and therefore have lower ongoing running costs. However initial cost of a laser printer is typically higher than an inkjet printer.
Laser printers are especially effective in office printing or home printing environments as they can print much faster than inkjet printers and can handle larger volumes of print.
Laser printers were the first developed by Xerox. They were the first printer and photocopier manufacturer to develop laser printing technology and released the original Xerox laser printer in the 1970s.
Tip: Laser printers and inkjet printers don't perform well in cold conditions so if you work in a garage, workshop or warehouse you might want to look at dot matrix printers as an alternative print solution.
Inkjet printers
Inkjet printers are cheap printers to buy. You can pick up cheap printers for around £30, however inkjet printers cost per page or cost per print is usually higher than a laser printer. Also, the cost of replacing ink cartridges over time does add up, so the overall running costs are usually higher.
Inkjet printers are capable of printing on multiple materials such as paper, gloss paper, card and even some textiles. If you want to print colour photos or images then inkjet printers are the best option as they provide a better quality finish and better colour definition.
Most inkjet printers on the market come with built in WiFi, meaning no more wired connections which makes it easier to setup for office printing or home printing environments. Inkjet printers are typically found in the home, have low capacity paper trays and are designed for lower volumes of printing.
LED printers
LED printers use a similar technology to laser printers. The difference with LED print technology is it uses a light-emitting diode as a light source in the printhead instead of the laser. LEDs are more efficient and reliable than laser printers, as they have less moving parts, which reduces mechanical wear on the machine. Some LED printers will produce faster print speeds than laser printers so they're effective for printing large volumes and office printing. Oki printers tend to use LED technology.
Dot Matrix Printers
Dot matrix printers are excellent for working in cold conditions such as a garage, warehouse or workshop. This is because dot matrix printers physically mark the paper instead of warming ink or fusing toner onto the paper which can be very tricky to achieve in colder climates.
Label printers
Label printers are different to ordinary printers. With a label printer they need to be able to handle rolled stock, or tear sheet (fanfold) stock. It's because of this that the majority of label printers have a special feed mechanism attached to the printer. Label printers have a wide variety of applications, such as retail price marking and packaging labels.
Brother Label Printers and labellers tend to be the most widely used labelling solution for small businesses from a range of sectors, including healthcare, hospitality and retail.
Thermal printers
Thermal printers produce a printed image by selectively heating coated thermochromic paper, or thermal paper. The paper passes over the thermal printers print head which turns the paper coating black in the areas where it is heated, producing the image. Two-colour thermal printers can print both black and red colour by applying heat at different temperatures.
Wide format printers for printing posters.
Wide format printers use inkjet technology for high-quality printing. Wide format printers can print banners, posters, trade show graphics, vehicle image wraps, architectural and construction  drawings and large format signage. Some of the most common large format printers are manufactured by Canon, Epson, HP and Oce. Wide format printers typically print onto a roll of print media as opposed to individual sheets enabling continuous workflow solutions.
Printer repairs and servicing near me. 
If someone in the office starts yelling "fix my printer" then it's time to get on the phone to the printer repair guys.
Printer repairs works in a very similar way to photocopier repairs. There's usually a call out charge and an hourly rate charge for any printer repair service. The cost of fixing your printer can vary depending on the and your chosen printer maintenance company or the level of printer support in any ongoing printer maintenance agreement.
If you have a limited budget then you can always refer to the printer manufacturer's website for additional printer maintenance information, printer advice and printer care tips.
Common laser printers, mono printers and desktop printers.
Brother printers, Canon printers, Epson printers, Dell printers, HP printers, Konica Minolta printers, Kyocera printers, Lexmark printers, Oki printers, Samsung printers, Sharp printers, Xerox printers, Ricoh printers,
Printer Names
Kyocera Printers – Kyocera ECOSYS
Canon Printers – Canon MAXIFY, Canon i-SENSYS,
HP Printers – OfficeJet Pro, PageWide, LaserJet Pro, DesignJet
Printers, laser printers and desktop printers jargon explained.
MPS – MPS is the acronym for managed print services, (It is also used for managed print solutions.)
OEM's – OEM's stands for original equipment manufacturers. Some well known printer and copier manufacturers are Canon, Xerox and HP.
MFP's – An MFP is a multi functional printer
MFD's – An MFD is a multi functional device
TVP – TVP stands for total volume plan. A TVP contract works in a similar way to your personal mobile phone contract whereby you pay for a set volume of prints each month combined with the leasing cost of the photocopier.
Scan to email – Scan to email function allow you to email documents to yourself or to another recipient directly from your Internet-connected printer or photocopier.
Fax – Fax is very similar to an email attachment. Most people assume fax is a dieing form of communication, stuck in the dark ages or only used by dinosaurs, however in some sectors such as banking and finance, sending a fax is still widely used.
Paper trays – A paper tray is the tray used to store the paper for the printer. Paper trays can be designed to take A3 and A4 paper sizes. Some photocopiers have high capacity A4 tray option for office environments that produce large volumes of print.
Document feeder – A document feeder is for scanning multiple documents, it usually sits on-top of the photocopier. Document feeders can scan at different speeds so if your organisation does a lot of scanning then ensure you select a photocopier that is up to the job.
Duplex printing – Duplex, or double-sided printing means printing onto both sides of a piece of paper. Duplex printing is a particularly useful way to reduce printing costs as you'll use half the amount of paper compared to having your photocopier or printer set to single-sided printing.